Compass now allows you to fully manage your Medicare Diabetes Prevention Program (MDPP) beneficiaries. With the newest updates, you can now perform the following actions:
Designate a participant as an MDPP beneficiary.
Assign the participant's Medicare Plan, and MBI or HICN.
Generate MDPP Crosswalk files to submit to CMS.
Creating an MDPP-eligible participant
MDPP-eligible participants can be added to any NDPP workshop in Compass. When you add or edit a participant to an NDPP workshop in Compass, you will now see an area to manage their Medicare profile.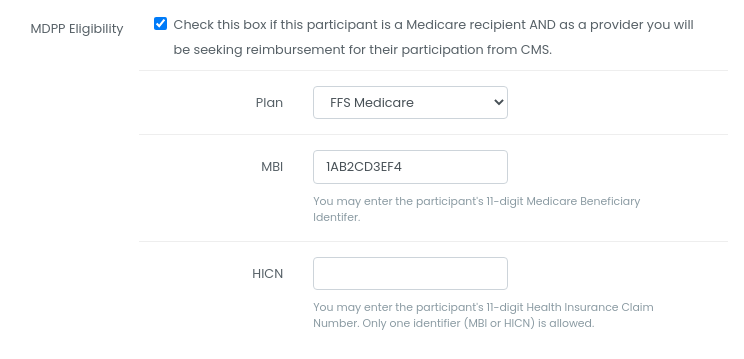 *Note: MBI and HICN identifiers are considered sensitive information. Do not keep this information publicly available. Compass stores and encrypts this information according to industry best practices.


For MDPP beneficiaries under the FFS Medicare plan, a Medicare Beneficiary Identifier (MBI) or Health Insurance Claim Number (HICN) is required. For Medicare Advantage, this information is optional, as the CMS does not require this information in the crosswalk.
Generating MDPP Crosswalk Files in Compass
Once an MDPP supplier furnishes MDPP services for six months, the MDPP supplier must begin to submit a crosswalk file at quarterly due dates. Information surrounding due dates can be found in the CMS MDPP Crosswalk Guidance document.
You can generate the MDPP crosswalk in Compass by visiting the Reporting > MDPP Crosswalk Generator section.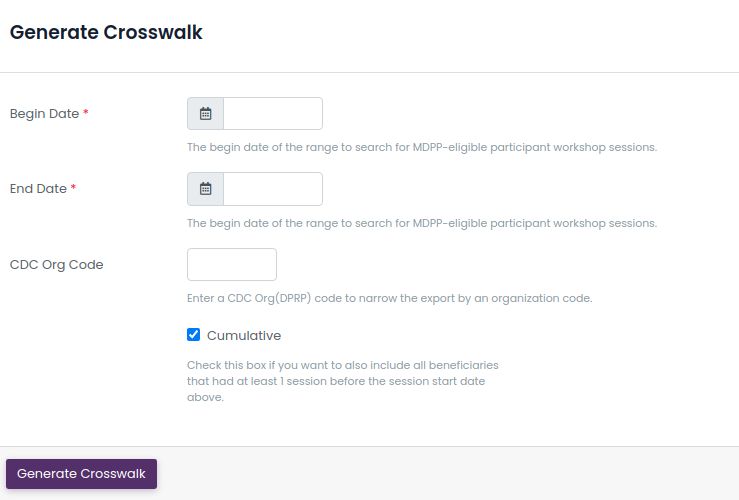 The MDPP crosswalk form contains 4 fields:
| | |
| --- | --- |
| Begin and End Dates (Required) | The begin and end dates search for any MDPP-eligible beneficiaries who attended at least 1 session in this period. |
| CDC Org Code (Optional) | This is your organization's CDC organization code provided by the CDC. |
| Cumulative (Optional) | When submitting a quarterly crosswalk to the CMS, it is required to include all previous beneficiaries in the crosswalk. When this option is checked, the Compass database will be searched for any MDPP-eligible beneficiaries who attended at least 1 session before the Begin Date defined above. |

Errors
If there are any errors or missing information on beneficiary records, they will be displayed on the second screen after submitting the form. You will have the option of correcting each participant's record from this screen, or editing each participant's information and resubmit the form.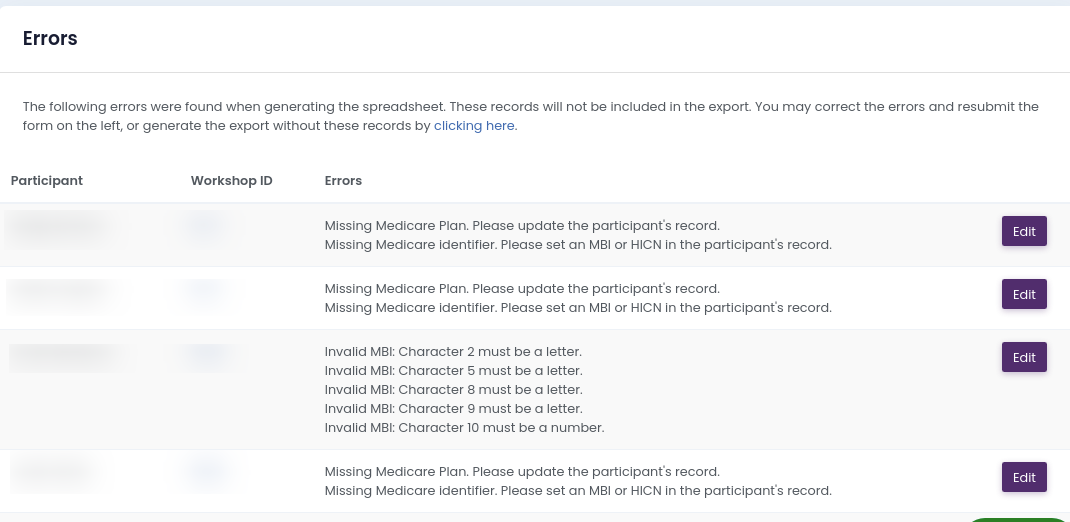 Generated Crosswalk File
The Crosswalk file that Compass generates will contain either 2 or 3 worksheets:
| | |
| --- | --- |
| FFS Medicare | MDPP-eligible beneficiaries who are assigned to the FFS Medicare plan will appear in this spreadsheet. |
| Medicare Advantage | MDPP-eligible beneficiaries who are assigned to the Medicare Advantage plan will appear in this spreadsheet. |